Nearly 70% of business leaders agree that a company culture provides the greatest source of competitive advantage (Bain & Company), and yet few organizational leaders know where to start, or how to influence their culture.
The process can feel overwhelming and nebulous. Nearly every leader I have talked with agrees that one of their greatest challenges is to create a company culture where the staff is committed to executing their vision.
At Conscious Culture Group®, we have put in place four steps that allow a leader to move forward in their intentional culture. It does take time – the process is more like moving big ship than a speed boat – but if done thoughtfully and with intention, the big ship will move in the desired direction.
Design
Culture exists whether or not it is clearly laid out. Employees will behave in certain ways, and new hires will try to figure out how to be successful in the company. Written and unwritten rules exist. Intentional and unintentional practices drive behavior.
The leadership team must have well defined:
Vision
Mission
Values
Behaviors
Using employee input, organizational leaders need to determine how they are unique and craft an inspirational statement that emotionally connects employees and applicants to a cause greater than themselves.
Values and behaviors are the heart of the culture and support the vision and mission statements. It is important to have no more than six values and clearly defined behaviors tied to each value. Success happens when you ask 10 employees what the values are, and all 10 know and live them.
Listen
Just three in 10 U.S. workers strongly agree that their opinions seems to count at work. However, by moving that ratio to six in 10 employees, organizations could realize a 27% reduction in turnover, a 40% reduction in safety incidents, and a 12% increase in productivity (Gallop December, 2017).
The simplest and most powerful way of understanding organizational culture is to see it through the lens of the employee experience. The employee experience is your culture. Gaining a pulse on the culture can be achieved through:
Customized culture survey
Culture team
A customized culture survey allows organizational leaders to know what is working and not working within the culture. The survey can be a combination of open and closed ended questions.
If you ask employees to take the survey and do nothing with the results, you will have gone two steps back. Bring together a culture team to understand the results and make recommendations for culture improvements. This is best done with a cross section of employees who are willing to share their opinions and offer valuable suggestions for improvements. "Water talk" must emerge.
Develop
Without developing and reinforcing the behavior, the best intentions will go flat. Behavior does not change by announcing it. Supporting the intended culture occurs thorough:
Culture specific manager training
Leadership development
HR system alignment
Often the weakest link in building an effective company culture occurs at the management level. It is the organization's obligation to ensure managers and leaders are set up to succeed. Only when the manager training and leadership development is directly tied into the culture can this be highly successful.
Wells Fargo has become a vivid example of how companies can veer off in the wrong direction due to the influence of their HR systems. HR systems will always win! Review your compensation plans, performance appraisals forms, recognition programs, hiring standards, and promotion criteria as examples. Change what does not align to the values and behaviors.
Share
84% of employees would consider leaving their current jobs for a company that had an excellent reputation, according to a Glassdoor study. The employment brand is what the outside world sees.
Share the employee experience with the outside world. Attract candidates that want to be part of your vision and culture. Use videos to tell the story.
Another way to stand out is receiving recognition as a best place to work. Getting the word out can become your most important recruiting tool.
Design, Listen, Develop, Share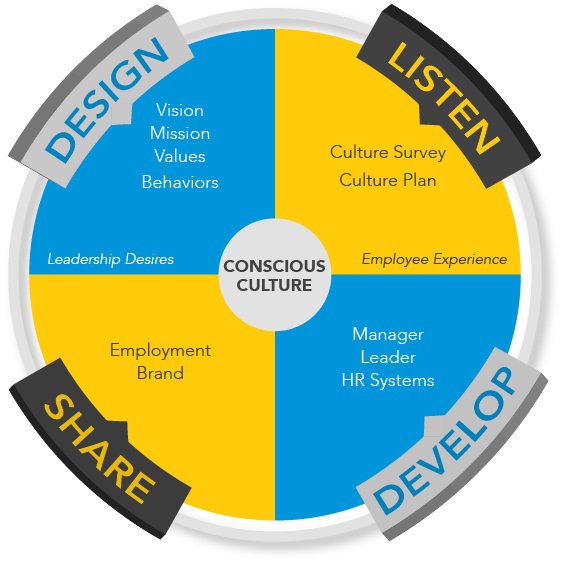 Organizational culture is complex, and can be intentionally steered over time. Conscious culture takes thought and deliberation with a plan to implement and learn. Start somewhere that makes the most sense for your organization. Ensure the employee experience is thoroughly weaved into all of the work.
We can help. Conscious Culture Group® would love to partner with you and your staff to build a great place to work that attracts, retains and motivates culture-fit staff.
Click here to speak with a member of Conscious Culture Group® about your culture building strategy.